Welcome to Brand and Demand's Marketing Impact Vlog. Today we'll be discussing MarTech. You might be familiar with Scott Brinker's famous marketing technology landscape slide. It was started in 2011 with 150 marketing software companies. In 2018 the Martech Landscape grew to nearly 7000 and all of them are vying for your attention.
I'm not sure how true it is, but these annually updated slides are said to be the most frequently shared marketing slides of all time.
There are many reasons for marketing technology's rapid growth, but we're not getting into that today. One thing is clear: this market is HUGE & OVERWHELMING. If you're not already aware, marketing technology is now the largest portion of the total marketing budget – 29% on average according to Gartner.
With marketing and technology becoming so intertwined, we need to take a strategic approach to how we plan to leverage these industry shifting platforms. I like to break down the overall stacks into 6 key categories: Advertising & Promotion, Social & Relationships, Commerce & Sales, Content & Experience, Management, and Data. For full details on what each category covers, here's the detail: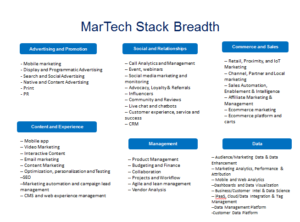 Our goal today is to provide the basic building blocks to help you navigate the MarTech Landscape.
The first step is to be sure we all are using the same definition.
Here's how we at Frost & Sullivan define the "Marketing Technology stack."
Marketing technology – or MarTech – stacks are the groups of technologies that marketers use to execute, analyze and improve their marketing across the customer lifecycle. Stacks are used to:
Improve internal collaboration
Simplify difficult processes
Measure the impact of marketing activities
Reach customers in new ways
Drive more efficient spending
A critical mistake many marketing executives make is they place the opportunities these technologies create above the strategy. Don't make this mistake. Always, always, always place your strategy first, and technology second.
That is so true!
A strategy needs to be the foundation of any marketing stack. It's got to take into consideration who you are, your goals and who you're trying to reach. Without this foundation, your marketing stack will become a set of siloed tools that don't compliment each other or integrate with each other.
That's why the first step in building a marketing tech stack is to monitor and document your marketing processes until you fully uncover the way your teams operate. In addition, be sure analyze your marketing culture.
Is marketing an Art or Science at your organization?
This is critical to help you on your path to finding the best tools to support your vision. Once you've taken these steps, analyze where you lack processes, as well as opportunities where you can improve.  Once you've mapped this, you'll have the requirements you need to find the best tools for your business.
As you begin to explore the marketing technology landscape, remember that we must all evolve our view of the opportunities MarTech provides. It's no longer a small piece of the pie.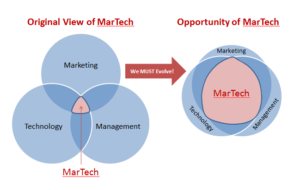 Understand your customer
The next step to solving MarTech Madness is to truly understand your customer or prospect and their behaviors/actions. If you're not currently able to link together their social handles, digital IDs, phone #s, device IDs and cookies to create a singular and unified version of these individuals, then this is absolutely your 2nd step.
When you're evaluating this Identity Graph, don't forget to include the total customer experience. Many marketers view their MarTech stack from a prospect or new business perspective and that is a devastating mistake. As we all know, your customers are your best source of future revenue, so be sure to leverage tools that support the total customer experience. This graphic provides a strong and simple visual: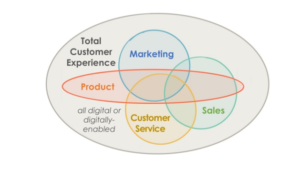 MarTech is NOT one-size-fits-all. Many variables impact which technologies you might find important, as well as how they should be organized. For example, B2B and B2C businesses use different channels and techniques to acquire customers and therefore will have different technology needs as a result.
However, when building out a marketing technology stack there are a set of foundational technologies you should always consider, regardless of type of company you are.
MarTech Assessment
We've developed a MarTech Assessment that covers 6 different categories every company should consider. Feel free to use it as you see fit.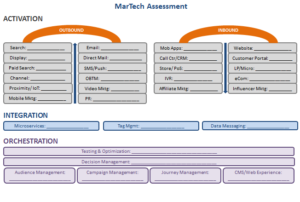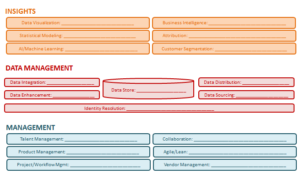 We just want to be clear that you DON'T need to fill in every line. If your organization doesn't currently leverage data visualization, it doesn't mean you have to. I hope that makes sense? If not, that's why we're here, just comment below and we'll follow up. We'd love to see some further dialogue around this important topic.
We're running out of time, so we'll dedicate future Vlog episodes to do a deep dive of these categories, but at the top level here is the list and image of the assessment.
Activation – this includes both inbound and outbound opportunities where you interact with clients and prospects.
Integration – covers the ability to integrate that activation into your systems.
Orchestration – involves your ability to test and automate further interactions.
Insights – is the data, insight and intelligence you capture
Data Management – is your ability to store, clean and integrate data across platforms.
Management – provides the necessary tools to manage your team, products, projects, collaboration, methodologies, etc.
We hope you've enjoyed today's installment of our Marketing Impact Vlog.
If you're looking for more opportunities to learn about Marketing Technology and other Marketing Leader topics, we highly encourage you to attend the 20th anniversary of our Marketing Impact event. This is a Frost & Sullivan Executive MindXchange and if you've never attended one, you MUST place this event on your calendar. Nicole and I will be there and look forward to meeting you. For more information, please visit marketingmindxchange.com
As always – remember to Grow Your Brand, And Drive Demand!