At Frost & Sullivan, we've been focused on customer experience for 20+ years. The topic and focus on flawless customer experience permeates our business culture, as well as plays a major content role at our Executive MindXchange events. That's why I was so upset with myself, when we were looking at topics we have yet to cover in our twice-monthly Marketing Impact Vlog.
This is our 24th vlog and we just realized we have yet to focus on CX. How is that possible? Maybe it's because as Marketers we're constantly trying not to drop all the balls we're juggling. We've said it before and it applies today, we need to build time into our regular schedule to focus on strategy. Unless we block off the time, other fires will constantly rise to our attention and that's why I think we've missed the topic of Customer Experience.
CX refers to the sum of every interaction a customer has with a business.  As marketing leaders, we are often an arm's length away from our customers, which is why we MUST focus on CX Strategy – which defines the actionable plans in place to deliver positive, meaningful experience across all your customer interactions. If you're not, then today's Vlog is extremely timely for you. This year's Digital Marketing Trends Report by Econsultancy and Adobe asked companies to indicate the single most exciting opportunity for their organization in the upcoming year. For the past two years, Customer Experience was at the top of the list.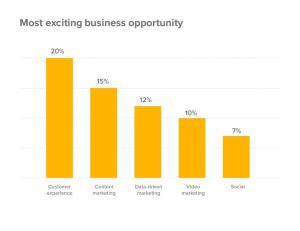 Additional research supports the excitement around CX. The Temkin Group published a study in 2018 that found companies that earn $1 billion annually can, on average, increase revenue by 70% within 3 years by simply investing in customer experience. Let me say that again, just in case you were reading a text while listening: Companies that earn $1 billion annually can, on average, increase revenue by 70% within 3 years by simply investing in customer experience. We MUST successfully implement customer experience strategies. If we do, we'll improve customer satisfaction rates, reduce customer churn and increase revenue! Now that we've got your attention, maybe we should have started with this point, let's review 7 simple ways you can improve CX at your organization.
Create Your Customer Experience Vision
The first and most important step in creating a CX strategy is to have a clear customer-focused vision that you can communicate internally at your organization. Zappos is a great example of a company whose vision fully integrates customer experience. The vision should drive your organization's culture and drive the behaviors of every employee, especially those who interact with customers.
Know Your Customers
If your goal is to create amazing customer experience, you'd better understand and empathize with the needs and situations your prospects and customers face. Creating personas is an important step to truly knowing your customers.
Meet Your Customers Where They Are
If you're not meeting your customers where they are, you're missing an enormous opportunity to engage with them when they are ready to buy or need your assistance. You must determine the channels your customers are most active on, but more importantly understand how they use each channel so you can create appropriate, reliable and consistent service through them.
Be Accessible to your Customers
For better or worse, we live in a 24/7 world and your customers expect service or insight whenever they are engaged. If you cannot provide 24/7 service, that is fine, but provide the self-serve resources to directly address their questions in your absence. HubSpot has a great Knowledge Base Guide for more details.
Whenever Possible, Make an Emotional Connection
According to the "Harvard Business Review study across hundreds of brands in dozens of categories shows that the most effective way to maximize customer value is to move beyond mere customer satisfaction and connect with customers at an emotional level – tapping into their fundamental motivations and fulfilling their deep, often unspoken emotional needs. Emotionally engaged customers are:
At least three times more likely to recommend your product or service
Three times more likely to re-purchase
Less likely to shop around (44% said they rarely or never shop around)
Much less price sensitive (33% said they would need a discount of over 20% before they would defect)"
Leverage & Execute on Employee Feedback
Our teams are on the front lines, engaging with customers regularly. They are our best source of instant feedback and we should be continuously processing that feedback to improve customer experience and employee morale.
Participant in the Customer Experience Ecosystem: A Frost & Sullivan Executive MindXchange on February 11th in New York City.
The event's mission is to assist you in achieving organization-wide customer centricity and it's like no event you've ever attended.  The standard powerpoint presentation has mostly been ditched in favor of driving content and best practices through collaborative hands-on peer-to-peer workshops.  The result, you'll have more actionable takeaways in the first half day, than at the last 5 events you attended combined.  We hope you'll join in February. Until next – remember to grow your brand…And drive demand!