We recently ran the numbers again on our 2019 Marketing Executive Benchmark Study to see where trends are shifting and which trends are holding strong. In today's Marketing Impact Vlog, we're going to share three key trends that will help you as you wrap up this year and start your planning for 2020.
ADAM:
First up, overall marketers' satisfaction with their results has not improved. In fact, we have seen more people express "Extremely disappointed" in the latter half of the year than we saw at the beginning of the year.
Here is the survey result from May 2019.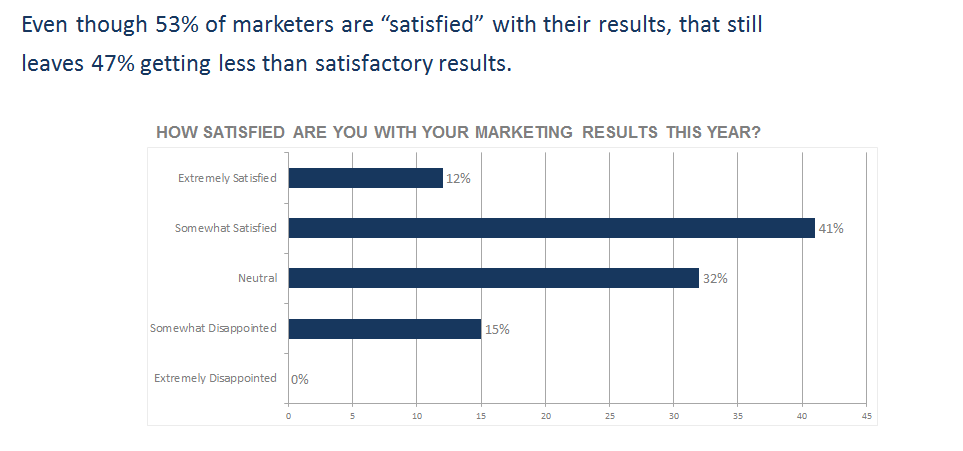 You will see that 53% of marketers were satisfied or extremely satisfied. But that still left a big 47% chunk of you less than satisfied.
Jump ahead to September, and the 53%/47% distribution is the same, but we now see votes dropping into the Extremely disappointed category.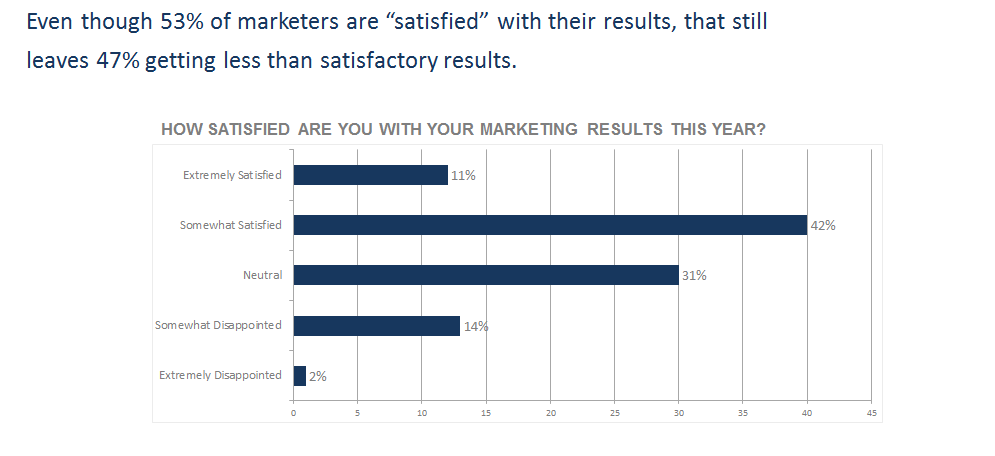 This is clearly NOT the direction we want to see our fellow marketers out there going!
So now is a great time to ask yourself: What can you do now to plan for better results in 2020?
Nicole, why don't you share a few pieces of advice we're hearing from the marketers we've interviewed?
NICOLE:
You bet.
I'm going to give this to you as a list of steps to follow as you start to plan for 2020. This is based on what we've gathered from talking to nearly 100 of you about what you think will help you see more success in the future.
#1 BE OPEN.  When you first start planning, take a good hard look at what you've done this year that has worked, and what hasn't. Be honest and open with yourself and your team about the good and bad. For future ideas, be open to ideas from individuals at all levels and functions within your organization. You never know where that next great idea is going to come from, so first you have to be open to new ideas.
#2 PLAN –This may sound obvious, but what we've heard is that planning sometimes is not specific enough. Include timing, budget, resources (both technology and human) as part of your plan so you have the most realistic picture of what it's going to take to implement your plan and reach your goals.
#3 SPEAK UP. This step is all about communicating with your immediate team and other teams in your organization. Recognize that some plans require change management, both up the chain and down the chain from marketing. The result of speaking up is alignment, which enables the last step…
#4: SPRINT/BE AGILE: In this day and age, done is better than perfect. And speed is rewarded because the sooner you close a Sprint, the sooner you get to see where to focus next. So Focus is the "partner" to being agile. Adopting an agile approach to your marketing automatically gives you focus, speed and the ability to adapt your plan intelligently.
So, with a better approach to planning, Adam, what is one area that our Benchmark study has shown ALL marketers need to be investing in 2020?
ADAM:
The one area that all marketers need to be investing in is a category I'll call "engagement marketing".
You're going to hear us talk more about this from us over the next year too. Essentially, marketers in our study have shown a significant increase in budget being allocated to tactics and channels that build and deepen relationships and that shorten the cycle of trust-building. Basically, engagement marketing increases sales.
So, what does engagement marketing include?
Well, two major channels that almost every marketer we've talked to is increasing for 2020 are:
#1) Account-Based Marketing – Account-based marketing is here to stay, especially if your marketing organization is being measured on more than just reach and impressions. This is where marketing, sales and even customer experience teams are being called to the table to deliver a truly relevant and responsive relationship with each customer.
So be sure you've got an appropriate amount of budget allocated to account-based marketing. If you'd like to know what that is for your company, reach out to us, and we can share with you what other organizations your size are doing as a benchmark.
#2) Executive Events—This includes both hosting executive events for your audiences and attending them as a marketing professional. We're talking about those highly interactive, creative, original and thought-provoking events where peers from across industries can meet and share best practices. Make sure you're allocating enough budget for this kind of engagement marketing in 2020 because live connection with your customers and prospects is golden.
NICOLE:
Those two areas certainly have held the top spots for marketers throughout 2019, so thanks, Adam for highlighting those.
If you have not yet taken the Brand and Demand Solutions Marketing Benchmark Survey, just click the link here. Once you complete the survey, you'll also get a copy of the benchmark report so you can see how your answers compare to those of your peers.
Thanks for joining us today for this episode of the Marketing Impact Vlog. Let us know in the comments below what you're going to do in 2020 to guarantee satisfaction with your year-end results.
Until next time, remember to Grow Your Brand….And drive demand!