As we look toward the New Year, we need strategies and a plan to acquire new customers, drive deeper returns from existing customers, sync with sales on goals, and develop new opportunities to grow our businesses.
After your marketing strategic plan is in place, securing and allocating your budget is just as important. How you set and allocate your budget can have a huge impact on your overall success. Implement these best practices and insights when budgeting for 2020.
We covered the topic of 5 Simple Steps to Create a Marketing Plan & Budget that Drives Return a few weeks ago in our VLOG. In this article, we want to dive a little deeper into the details of budgeting to ensure you plan for strong returns by the end of the year and start next year strong.
Build a Marketing Budget—When to Finalize Your Plan
The fourth quarter is by far the most popular time to finalize marketing plans for the majority of organizations we surveyed. According to our B2B Marketing Executive Priority Benchmark Survey results compiled in September 2019, at least 58% of marketers have completed 75% of their next-year marketing plan by the year's end.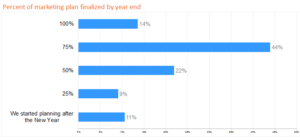 If you haven't completed your budget plan, now is a great time to complete it before the busy holiday season approaches. If you are still trying to use up your budget from 2019 before planning for next year, be sure to look for marketing investments that can be made now that will carry over into the new year. For example, many of the Brand and Demand Solutions programs have deliverables that can remain in use for a year or more!
Build a Marketing Budget—How Much to Spend
There are three basic approaches to budgeting and some standard percentages for benchmarking purposes, depending on your goals.
If you are planning to maintain your status quo in the marketplace, on average you are allocating 1% – 3% of your top-line revenue to your marketing programs.
If you are planning to grow your market share—maybe through product launches, or targeting new audiences with your existing products and service—you are allocating 4% – 5% of your top-line revenue to your marketing investments.
If you are planning for massive growth—perhaps through acquisition, team growth, product line extensions, advanced technology implementations—you are allocating 6% or more of your top-line revenue to marketing investments.
Our B2B Marketing Executive Priority Benchmark Survey has shown that most marketers (70%) expect their 2020 marketing budget to be higher than their 2019 budget.  
Overall, spending will continue to increase, so that brings us to the next important topic…how is the budget being allocated?
Allocate Your Marketing Budget
In our Vlog, we shared a list of tactics that are most frequently leveraged to convert your strategy into reality. Our list included
Email Marketing
Content Marketing
Social Media (Organic and Paid)
Display and Retargeting
SEO and Paid Search
ABM
Lead Conversion and Nurturing
Earned Media/PR
Referral Marketing
Customer Experience
Events
Branding
Affiliate & Influencer Marketing
Traditional Advertising
To help you determine how much of your marketing budget should be allocated to each of these tactics, consider these findings from our B2B Marketing Executive Priority Benchmark Survey.
Relationships Rule. Marketers are prioritizing relationship-building tactics to deliver a high ROI.  When asked which three channels are most important for generating a return on investment, marketers overall are prioritizing channels that allow for deeper connections with potential customers. The channels of Events, Content Marketing and Account Based Marketing get the highest scores for their ability to deliver personalized experiences for customers and prospects.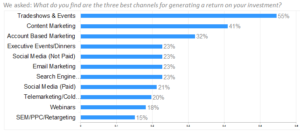 In addition, marketers are being measured not only by total marketing leads, but also equally by number of closed deals. This further supports the strategic shift to tactics like those above that enable an end-to-end connection with a prospect from inquiry to closed deal.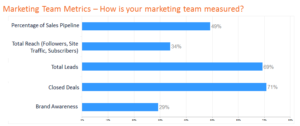 To find out even more about how fellow marketers are allocating their budgets, how they are spending by tactic, and to see how companies are overcoming content, lead conversion and budget challenges, take the Brand & Demand B2B Marketing Executive Priority Benchmark Survey. Upon completion, you'll not only receive the results, but you also may be contacted to receive a personalized read-out to find out how you compare with other companies your size.
What To Do Next
Once you've developed a strategy and plan, successful execution can only be achieved with a qualified team of marketers, designers, and technical experts. That's where many teams find themselves short on resources, and that's where Brand and Demand Solutions come in.
We help you increase brand awareness and fuel your pipeline with a variety of personalized content marketing and demand generation solutions stamped with the credibility of Frost & Sullivan. To learn about how we help to engage and convert your ideal audience, simply fill out our contact us form and one of our marketing consultants will be in touch to schedule a free consultation with you.